ProPresenter 7 is an exciting new version that was written from the ground up on both Mac-OS and Windows. Perhaps the biggest change was that the new Windows version of ProPresenter finally has the same feature set as it's twin on Mac-OS and has just become a "big boy" 64-bit application just like the Mac-OS version has been for years.
I was a part of the early beta-testing group and did quite a lot of testing on both platforms. The new features are amazing and I really enjoy them. However, this post is not about any of new features – plenty has been written already about the new features. I wanted to write about something else…
The surprising performance of ProPresenter 7 on Windows 10!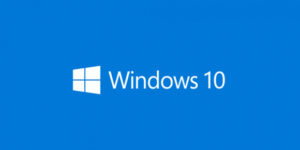 The biggest surprise for me was that ProPresenter 7 performs so well on Windows 10 and has the same features as the Mac version!
Now, we use ProPresenter at my Church and I've always preferred running ProPresenter 6 on Macs for several reasons – the two most important to me were:
We used features that were only available on the Mac-OS version (MIDI, All-Caps etc).
We enjoyed the much smoother performance on comparable hardware.
I am comfortable supporting either platform – so the choice was easy.
For me, Macs were the first-class platform of choice for ProPresenter…
…But that idea is now seriously challenged.
When I began beta testing, I wanted to test on both platforms so I could compare and contrast.
I borrowed an old gaming PC from a friend with the following specs:
i7-2600 @ 3.4Ghz, 16Gb Ram, GeForce GTX 670 GPU and 512GB SSD.
That CPU and GPU were top-shelf "back in the day" but now you will find them both in the lower-middle section in any current performance charts.
Every time I use ProPresenter 7 on this middle-of-the-road desktop gaming PC a phrase keeps echoing in my mind: "I really think this is going to be a game changer!"
When I began testing on Windows, I borrowed four monitors to connect to PC so I could have a setup that included outputs for the ProPresenter application window in addition to Audience, Stage-Display and Announcements outputs. (The act of simply plugging in four displays is something that is already foreign to most Mac owners as most Macs don't have the GPU power and/or hardware ports to do so.)
The old PC ran four outputs, playing two different 1080p30 videos, without breaking a sweat.
ProPresenter 7 lets you send a different presentation to an Announcements output while running a presentation on your main Audience output. I tested with full-screen 1080p 30fps videos to both of these. That's two different videos at the same time.
How much more could this system handle?
I suspect rendering outputs amounts to quite a chunk of the total load so I wanted to add more outputs and push the system "a littler harder".
I had no more free ports in the GTX-670 to plug in any more monitors, so I took advantage of NDI support in ProPresenter 7 and added three more NDI outputs.
(NDI is one of many IP video streaming technologies where you can send video signals over your computer network and any clients on your network that understand the protocol can see those video streams and display them.)
I used the NDI tools "Monitor" software on three other computers on my home network to display these extra NDI outputs. It worked a treat and the old gaming PC handled three more "outputs" well.
Take a look at the system load while ProPresenter 7 was rendering seven outputs from an old gaming Windows desktop PC.
The CPU and GPU are both working at around 30% and there was plenty of free RAM.
It's worth noting, that in addition to the main output having a full-screen background motion and the announcements output having slides and full screen videos looping I also had several other screens rendering duplicate previews of those videos in quad views!….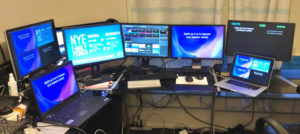 Is ProPresenter 7 on Windows now "better" than on Mac?
Is there something magic about ProPresenter 7 that will makes it perform better than its Mac-Os twin on comparable hardware? – I don't think so.
I think ProPresenter 7 on Windows has finally "caught up" – It's no longer the little brother, but one of equal twins that perform well on both platforms when run on comparable hardware.

Given that the performance and features for ProPresenter 7 on Windows and Mac-OS are now comparable, I think the Windows version will still be a game changer because:
1. For Churches that are comfortable to run Windows: ProPresenter 7 is now feature complete and while performing just as well on comparable hardware, it can be fair bit a cheaper to buy comparable PC hardware if you don't need or care about beautiful 5K displays.
2. "Output-happy" setups are so cheap and easy: If instead of comparable power, you had a need for LOTS MORE GPU power to run lots of outputs in ProPresenter 7 – it's currently a much easier and cheaper to do that on desktop PCs (thanks mainly to much more powerful CPU choices)

I suspect those that get carried away with multiple outputs will love what can be achieved with powerful GPUs in desktop PCs!
I will continue testing both platforms and thinking about our setup, environment and ways of working. I like both platforms and can support and work with either.
It's just so easy and cheap to build a super-powerful desktop that can easily handle many outputs and then put them to use in ProPresenter 7.
This makes thought of an "seven-output-happy" desktop PC machine with two 34″ 4K displays for the ProPresenter operator, running an audience output, two different stage displays, an announcement output in the lobby and a lower thirds on the stream for a whole lot of $$$ less than doing the same on an iMac pretty tempting.